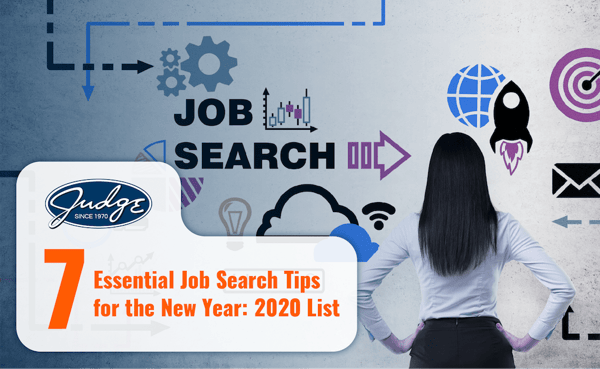 Mark Twain once said, "The secret of getting ahead is getting started."
Although he may not have said it with job seekers in mind, it's certainly a helpful tip to remember! But if poetic advice isn't practical enough for you, consider this pro-tip from The Judge Group:
There is no better stretch than January and February to launch your job hunt.
Companies often receive their annual budgets in January, and the mostly vacation-free months ahead create a long stretch of internal consistency—fertile ground for job seekers. So dust off those job searching skills! It's time to create a plan-of-action for the new year.
Without further ado, here are The Judge Group's Top 7 Job Search Tips for the New Year.
Spend time on your resume
Like all trends, ideas about what an effective resume looks like can change with the times. A resume considered optimal five years ago might no longer be up to date. So, while we'd recommend a bit of upfront research about resume writing in your field, here are a few tips that have withstood the test of time.
Keep it simple and clean. Overly embellished graphics and colors can become distracting and easily disorganized when downloaded. A bit of color can be a nice touch, but if you use it, be consistent and don't overdo it.
Don't be shy about listing your skills and accomplishments. Showing you are constantly expanding your horizons demonstrates you are a go getter.
Work on your portfolio
A lot can happen over a year, especially if you work in a fast-paced company that provides professional development training. We often integrate new skill sets without even realizing it! Take time to write a list of your accomplishments over the past 12 months. This can help improve your resume, cover letter, and how you speak about yourself.
Improve your professional online presence
After being hired, many of us neglect our LinkedIn account until we realize we're ready for a career change. If this is you, it's past time! Reference your portfolio, rewrite your summary section, accomplishments, trainings, achievements and skills. Update your profile picture and ensure it looks professional. Use other's profiles for inspiration.
Catch up with your references
It is important to stay in touch with your references and maintain friendly, professional relationships. The holidays are a fantastic time to reach out and schedule a meeting in person or over the phone. Share your career path, goals, and accomplishments. Offer an update about your job search and don't be afraid to ask for advice.
Spend time researching
Becoming an expert in a chosen field has plenty of upside. However, it's also easy to get stuck in a professional comfort zone. Learning about diverse roles, opportunities, and industries can inspire you to dip your toes just outside of your circle. The more you research and explore, the more that circle will expand!
Network and attend events
Even when career fairs and networking events don't score you a job, they can definitely help your search. Speaking to professionals in your field can help educate you about what employers are looking for, what the new hiring trends are, and what is "next up" versus what is already outdated. Our own professionals attend networking conferences all the time! Likewise, speaking about yourself repeatedly will reduce anxiety and help you pitch yourself in the future.
Take care your yourself
Let's not candy coat it. The job searching journey can be stressful, especially when it takes longer than expected. During this process, it's important that you maintain healthy habits. Eat well, sleep, exercise, and surround yourself with positive people. All of this will help you stay sharp, and moving more effectively towards your goal.
Conclusion: You Can Do It!
So there you have it—Judge's job search tips for the new year! To get started, try the following:
Make a list of the job hunting strategies you will focus on, along with a general timeline you'd like to conduct them in. If you hit a few road bumps along the way, don't be discouraged—it's all part of the journey. Use these tips to guide you, but don't forget to enjoy the season!