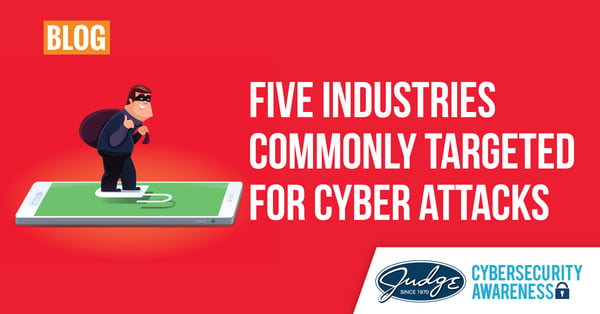 There's just no way around it: any company that collects sensitive information is going to be a target of cybercriminals. It's the unfortunate reality that businesses operate in today.
Yet, certain industries are at even greater risk. Companies in these industries typically deal with extremely sensitive information and collect data on a high number of people. Here are five of the most targeted industries for cyber-attacks.
Healthcare
Healthcare organizations collect and store vast amounts of intimate data. Electronic Medical Records (EMR) systems contain detailed medical history on patients and often also include financial information. Add in the sheer size of many healthcare networks, and it's easy to understand why bad actors have healthcare companies in their sights. The industry has strict compliance standards in-place to detect vulnerabilities and continues to evolve to protect patient data. An example of this, is the HITRUST CSF system certification. It is a prescriptive set of controls that meet the requirements of multiple regulations and standards and provides a way to comply with ISO/IEC 27000-series and HIPAA standards.
Financial Services
Probably the most obvious member of this list. No one is surprised that bad actors want access to your financial information. Financial institutions must ensure customer information is secure, confidential, and properly disposed. Having been a target of attacks for so long, many financial institutions understand the importance of investing in cybersecurity and the damage a breach will have. They are one of the most regulated industries and need to insure their cybersecurity standards meet all regulations. If a financial institution is breached, they could also face the wrath of regulators.
Retail
Retail is facing threats on multiple fronts: hackers attempting to gain access to customer databases, attacks on company store-front websites, and in-store point-of-sale devices (credit card readers). With so many points of entry for an attack, retail businesses must invest in different technologies and strategies to combat bad actors. For small businesses, the need to invest in security solutions is even greater as a single breach could potentially put them out of business.
Government
The government faces threats from a couple different enemies, from foreign powers spying to hacktivists trying to make a political statement to cybercriminals looking to steal information to make money. Government databases, on the local, state, or federal level, offer bad actors a treasure trove of information on businesses, citizens, and even the government itself. Cyberattacks on the government can also impact public utilities, such as the power grid.
Education
This one might be a bit of a surprise, but education institutions are quickly becoming a favorite target of bad actors. Education institutions are targeted for financial gains, their copious amounts of data on both staff & students, and their intellectual property from campus research. The sheer volume of people accessing their networks can make it difficult to manage and effectively enforce cybersecurity policies. Add in a heavy bring-your-own-device (BYOD) culture, and you get a massive headache for internal IT teams.
While these are the most common targets, every industry, business, and employee is at risk of a cyber-attack. It's important to stay vigilant and take the necessary precautions to protect yourself: any industry with a lax approach to cybersecurity will quickly move to the top of the list.